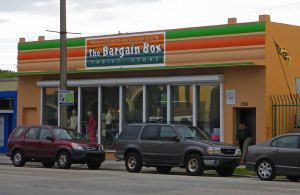 The Woman's Cancer Association of the University of Miami owns and operates a thrift store called Bargain Box. The store is located at 1350 West Flagler Street, Miami, FL 33135-2320. The telephone number of the store is 305-643-2945. The store is open 10:00am-5pm (new hours!). On the first Friday of each month it is open to 6:00 PM and their is a 50% off sale that day.
Under the leadership of the WCA members, donations are brought to the store and sold. Items include clothing, furniture, household goods, collectibles, art and toys. The money from the sale of these items goes to support cancer research at the Sylvester Comprehensive Cancer Center and the University of Miami Miller School of Medicine. The store annually takes in over $100,000.00
Bargain Box occupies a building which the WCA purchased in 1984. The building lot is 6,000 square feet. The store itself is 4,293 square feet. The front of the store has mainly clothing and household items. A small middle section is called the Boutique, and it contains specialty or unique items. The back area of the store is devoted to furniture, art, toys, and books.
In order for the store to be a continued success, new donations are always needed. Spread the word in your community that we will take donations directly at the store or through the members of the three chapters which make up the WCA. We also want to expand our customer base, and reach out to the wider community.
We, the members of WCA, are proud of the work done at Bargain Box. Donations are tax deductible, volunteers serve without pay for a good cause, the staff is friendly, and items are for sale at low cost. The store is well maintained, and enjoys an excellent reputation in the neighborhood.
Bill Tenney, Manager
305-308-4639
tenneywd@gmail.com