The Barton Ravlin Chapter is made up of 65 members and is named after Madelon Ravlin, WCA founding president. Chapter meetings are held at members' homes each month, and the primary objective of the chapter is to support the Woman's Cancer Association's mission to raise funds for cancer research at UM Miller School of Medicine, Sylvester Comprehensive Cancer Center, meet immediate needs of cancer patients, and participate in cancer education programs.
Dancing for a Cure, our annual gala, is coming up Saturday, March 10, 2018, at the Airport Hilton Hotel. Don't miss this magical evening with wonderful food, terrific music and dancing, and a fabulous silent auction.
In October the Barton Ravlin gals welcome a huge crowd to their annual bazaar, The Ultimate Bazaar.  Happy customers enjoy buying top of the line home goods, clothing, handbags, jewelry, art, holiday décor, plants and treasures of every kind.
Barton Ravlin provided beautiful gift bags for cancer patients at UM hospitals in December. You couldn't tell who was enjoying it more, the patients or the BR gals. CBS Channel 4 featured the event on their 6 o'clock news with special attention paid to Ellen Wilborn, who served as chair of the event and was enjoying her 50th year as a WCA member!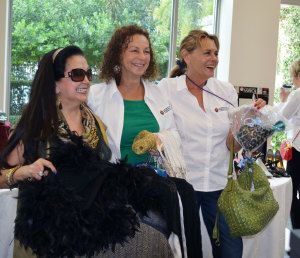 Providing cancer patient support is another important aspect of our service.  Each year Barton Ravlin brings goodie bags filled with wonderful gifts to cancer patients at UM Hospitals.  We also support patients by participating in WCA's Silver Angel Tea and conducting raffles at our monthly meetings.  This year we provided extensive support for the first Patients' Prom at UM Holtz Children's Hospital.
The Barton Ravlin Chapter of WCA has added 12 new members to our chapter this year, and we will be delighted to welcome you.  Kindly contact Michele Locicero for further information about the Barton Ravlin Chapter and WCA.
Officers
President – Sharon Trent
Vice Presidents – Ada Fabregas, Janet Karshan, & Michele LoCicero
Recording Secretary – Linda Sioli
Corresponding Secretary – Sara Lee Sanderson
Treasurer – Lynn Allen