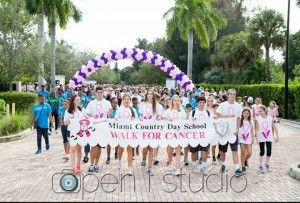 Heidi Ann Hewes was born and raised in Miami Shores. In the fall of her senior year of high school, she was diagnosed with melanoma. Despite her illness she remained an active member at Edison High School as senior class treasurer, a staff member of her yearbook, co-captain of the cheerleading squad, and a member of the National Honor Society. She died in 1971 at the age of 17. Members of the Heidi Hewes Chapter are proud to raise money in Heidi's memory to help the fight against cancer.
For more than fifty years the Woman's Cancer Association of the University of Miami has supported cancer research, patient welfare, and cancer education.  The devotion, teamwork and generosity of community members like you are how we continue to grow and support the WCA.
Miami Country Day School Walk the Walk
The Walk starts on the Miami Country Day School Athletic Field with registration at 8:00 a.m. and a 5K walk at 9:00 a.m. through Miami Shores. Each year the Walk donates all funds to the Heidi Hewes Chapter of the Woman's Cancer Association and The Sylvester Center for Comprehensive Cancer Research.
Home for the Holidays Walking Tour
Each year five generous families in Miami Shores support our chapter by opening up their beautiful homes for a holiday walking tour. The ticket is a brochure with beautiful renderings of each house, and a map of how to get around, and where to find Santa!
Grape Therapy with an Educational Twist
A quarterly wine tasting event featuring guest speakers from the University of Miami's Sylvester Comprehensive Cancer Center. These well-attended lectures are presented by doctors on the cutting-edge of cancer research, who deliver insightful and thought-provoking discussions on current research topics. By contributing to the overall mission of the WCA, our lecture series provides a wonderful opportunity to gain knowledge and insight from some the best minds in the field.
Dolphins Cancer Challenge
"Nancy Cigno's "Team Hurricanes – Woman's Cancer Association" completed their 2017 inaugural ride/walk/run, with two cyclists finishing in the top 10! If you would like to join the Dolphins Cancer Challenge VIII and be part of Team Hurricanes – Woman's Cancer Association by biking, running, walking or donating please click this link for details – dolphinscancerchallenge.com It is a fun filled day for the whole family!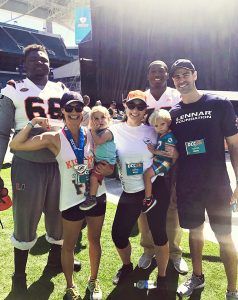 Contact: For more information about Heidi Hewes, please contact: heidiheweswca@gmail.com
Like us on Facebook: https://www.facebook.com/HeidiHewesWCA
Officers
Co-Presidents – Ellie Groden and Melissa Latus
Vice President – Leslie Wallace
Recording Secretary – Jackie Butler
Corresponding Secretary – Alison Mass
Treasurer – Nora Tenney